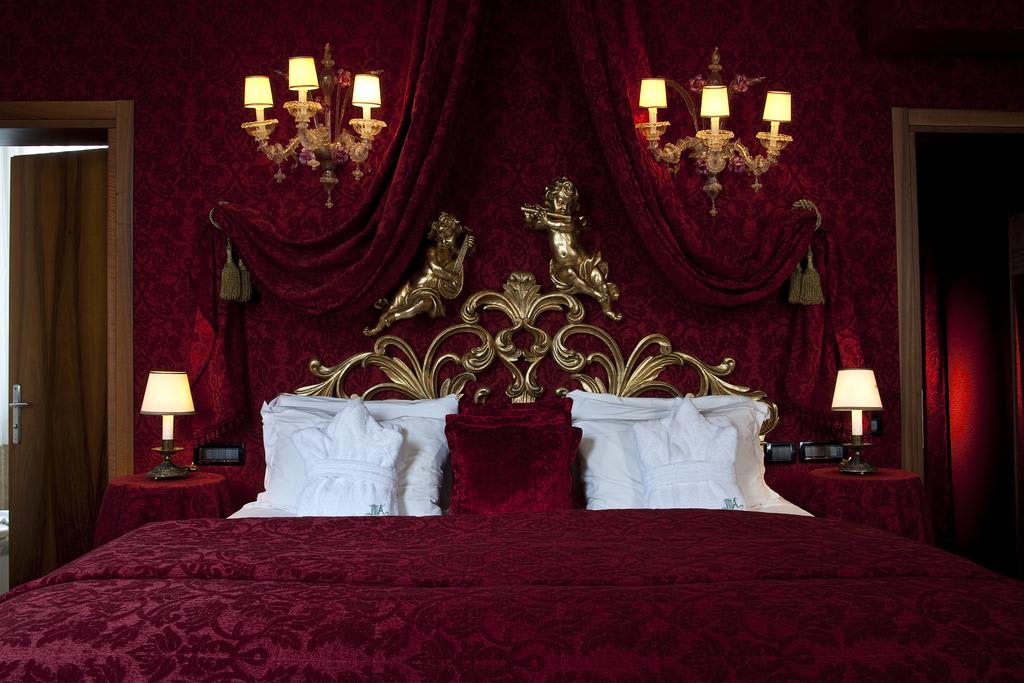 The Rooms
A rich red brocade covers the walls of this room, ideally conceived to host the highest authority in the Venetian Republic, that is, the Doge. The luxury of the materials, the glimmering colours of the imposing chandelier, the preciousness of gold and the sight of this enchanting area of Venice will make you feel the master of the town for one night.
In this room we recognise the whiteness of the marble with which Venice is built. This same marble, engraved and modelled, makes up the chimney that dominates this romantic room, while from the windows of this magic and relaxing place you will hear the sound of the water gently splashing on the venerable, white stones.
In the fight for the dominion over distant lands, during the crusades, the Republic of Venice was the protagonist of some of the most thrilling and fascinating pages of history, from antiquity to modern times. Voiceless witnesses of past times, the Moors are there to offer you still unknown stories of the glory of an enchanted town.
Gold and blue symbolise Venice and its dominion over the sea. From the canals of the lagoon, long routes bring to mysterious and legendary countries, signs of the courage of the adventurous people who first united Europe with the far East. If you have ever dreamed with Marco Polo's 'Il Milione', you cannot help sleeping in this room, to live the charm of the ancient silk route again.
The hues of pepper, cocoa, clover and other rich spices melt here in an incredible mosaic of colours that will charm your senses. The result is a room voluptuous and hot like the load of the ships which from far-away lands carried the products building for centuries the richness of Venice.n.
Meant for the guests who like neutral tones and the nuances of wood and sand, rooms made precious by damask tapestries in the same hues, by the ancient stones in the floor 'alla veneziana' and from the illuminating glasses from Murano. Her you find the exact meeting point between opulence and simplicity, a relaxing and sober space.